On The Move: MOVEBR NEWS


2020 Q4

A Message from the Mayor:
2021: A Year of Building for MOVEBR
Following a year that saw MOVEBR projects quickly advancing from planning to engineering design and into construction, 2021 will be a year for building.
We will build new roadways as construction gets underway on seven significant capacity projects and one existing corridor enhancement project. We will continue installing fiber optic cable to connect all traffic signals for synchronization and efficiency. At the same time, we're building stronger neighborhoods as new sidewalks will make our community more walkable and connected to public transit and businesses.
I'm especially happy to report that just as we designed a road improvement program to benefit the entire parish, these first projects vary in location and scale. They range from MacHost Road in the north to Pecue Lane to the south, and from Scenic Highway in the west to O'Neal Lane in the east. In scale, they include a $52 million capacity project and a $200,000 sidewalks project – all improving our ability to move around safely and efficiently in our city and parish.
21 MOVEBR Projects Move to Construction in 2021
This year, 21 MOVEBR projects that will increase capacity, significantly enhance existing corridors, build sidewalks and increase accessibility throughout the parish will move forward to the construction phase.
In addition to road construction projects, signalization efforts will continue to move forward with three fiber optic cable installation projects to connect corridors for communication with the Advanced Traffic Management Center.
Featured MOVEBR Project: Mall of Louisiana Boulevard
Construction is underway on new capacity projects, including the Mall of Louisiana Blvd. project, to provide features for motorists, pedestrians, and cyclists.
The Mall of Louisiana Blvd. (Picardy-Perkins Connector) Project began construction in 2020 to increase capacity in the area. On October 29th, the MOVEBR Program Management Team updated the public on the status of the project via a virtual public meeting. The team discussed the project's features and presented the anticipated project timeline. This initiative, which will provide an alternate access route to the Mall of Louisiana and outlets for the Wimbledon Subdivision, is anticipated to be completed in 2023.
MOVEBR's 1st Mentor-Protégé Participant:
LaTrice Hardy, LYP Consulting, LLC
The MOVEBR Mentor Protégé Program seeks to encourage the inclusion and mentoring of small, disadvantaged businesses in East Baton Rouge Parish, thereby enhancing capabilities, capacity and opportunities for the businesses to successfully compete for future public sector contracting opportunities. The Protégé selected through this process will have the unique opportunity to be exposed to and involved in many different aspects of the MOVEBR transportation infrastructure improvements program.
The first and current program participant is Ms. LaTrice Hardy, owner of LYP Consulting, LLC, which specializes in project management and strategic consulting.
Read more about the MOVEBR Mentor Protégé program and watch an interview with LaTrice Hardy.
New Project Details Now Available on MOVEBR Website
Project specific pages have been added to the MOVEBR website, providing project-level updates and an opportunity for the public to submit comments regarding each project.
The MOVEBR website now features a more detailed project page for each of the program's 70- plus projects. These project specific pages were created to provide the public as much information as possible on each project.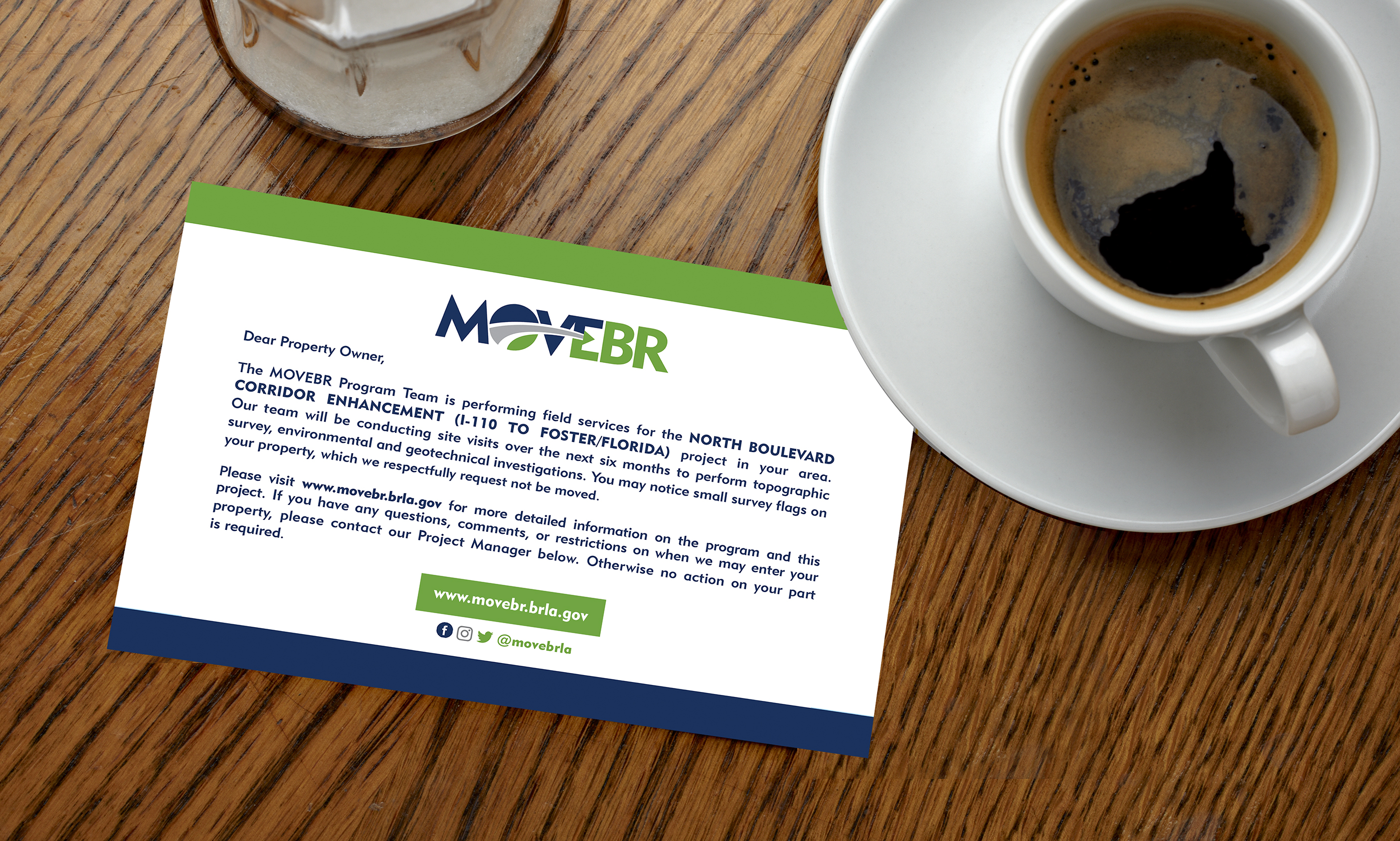 Property Owners Notified of Field Services Work on MOVEBR Projects
When MOVEBR project contractors receive a notice to proceed from the City-Parish, the MOVEBR program notifies property owners in areas where field services are being performed about ongoing site visits for environmental and geotechnical investigations.
Property owners may notice small survey flags on their property and are asked to not move or disturb them, but to contact the project manager if they have questions. They are also asked to notify the project manager if they have any restrictions on when the team can access the property. Read a list of projects here that have had field services performed prior to construction beginning.