On The Move: MOVEBR NEWS


2020 Q2

A Message from the Mayor:
Getting Baton Rouge in Sync
At a time when traffic was lighter than normal during the COVID-19 crisis, we began implementing traffic signal upgrades and laying fiber optic cable, a group of projects that will make Baton Rouge one of the world's leading cities for traffic management technology.
An important part of MOVEBR is a traffic management system that will give us 100% connectivity with our traffic signals, allowing us to adjust traffic flow at any time from our Advanced Traffic Management Center. In this Digital Age, very few cities in the U.S. have fully connected traffic signal systems – I'm proud to say Baton Rouge is leading the way.
MOVEBR is Exceeding Target for
Local Small Business Participation
Mayor Broome announced the MOVEBR program is on track to exceed her target of 20% in

small business participation

in the MOVEBR program with current spending committed for preconstruction services at 40% for small businesses and a forecast of at least 33% over the life of the program, excluding program management services.
Moving Forward During COVID-19
As the state faced unprecedented times caused by the shutdown of many businesses and in-person activities during the COVID-19 crisis, the

MOVEBR Program kept moving

to keep important infrastructure projects on track. One of the project team's first actions when many activities were moved online was to create two webinars for our small business outreach.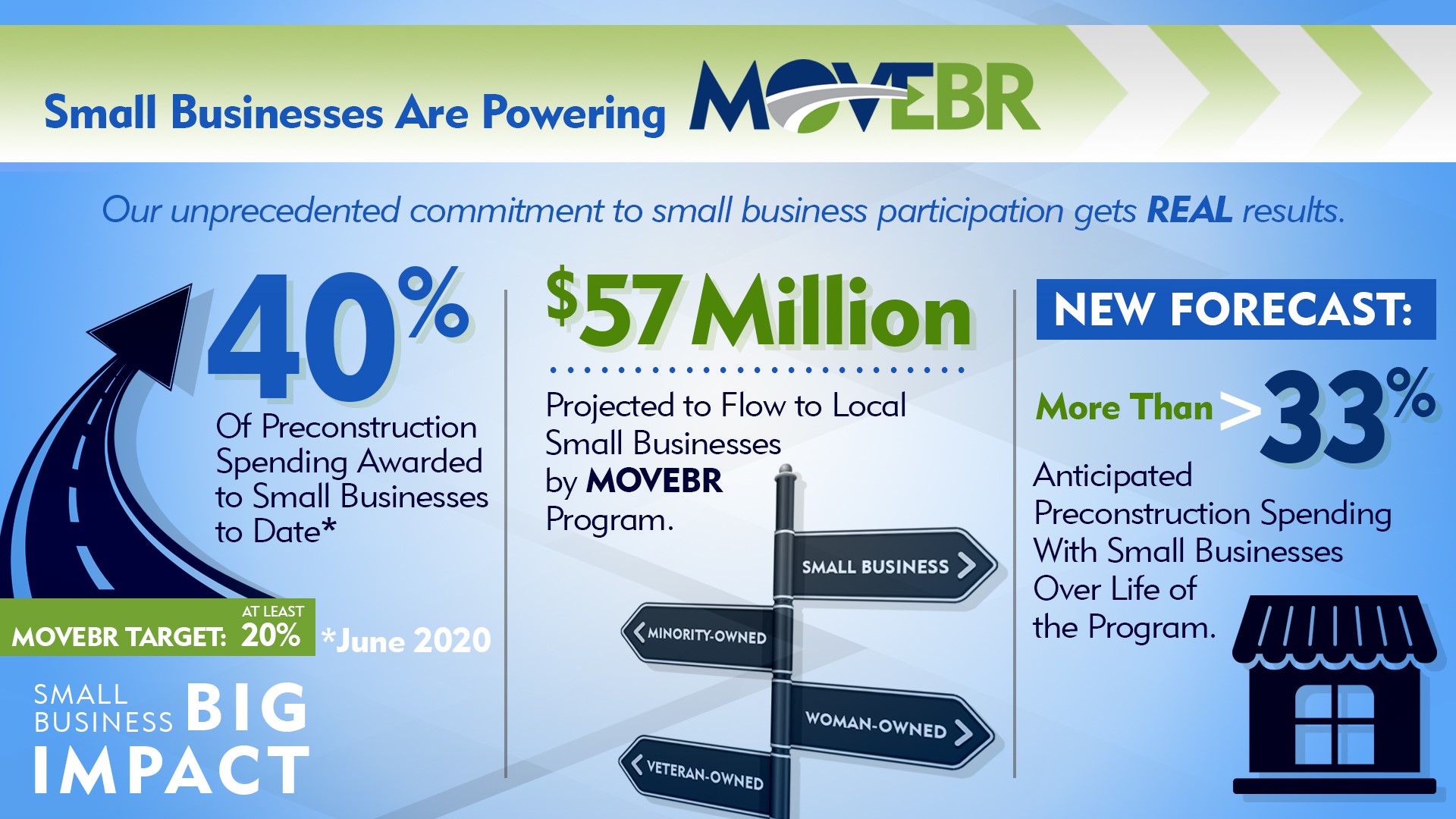 New Networking Opportunity for Small Businesses
A new

Small Business Outreach (SBO) video library

will launch soon to provide a safe networking opportunity for small and minority-, women- and veteran-owned businesses interested in MOVEBR project work or teaming opportunities. In response to feedback from our survey, small business owners indicated interest in reaching decision-makers with information about their companies and related experience.
What's New on the MOVEBR Website
Looking for information on the MOVEBR Program? The MOVEBR Website

has the most up-to-date information and its various elements

, including Doing Business with MOVEBR and project specific information. New updates are constantly being made to provide the public with the most relevant information.


MOVEBR by the Numbers
Since the MOVEBR program kicked off one year ago, the program management team has worked with the administration to

advance 20 projects

into the design phase. Through the City-Parish procurement process, 100 specialty and design firms have been selected to work on MOVEBR projects with 78 contracts negotiated.