Mayor's Message
Design Plans Released for First Major Corridor Enhancement Project
In addition to adding capacity to some of our roads, building new sidewalks and multi-use paths, and revamping our entire traffic signal system, the MOVEBR program is making improvements to some of our major corridors. This week, we held a public meeting for the College Drive Corridor Enhancement Project, revealing new ways to manage access on this busy gateway street. You can read more about the College Drive Corridor Enhancement Project here.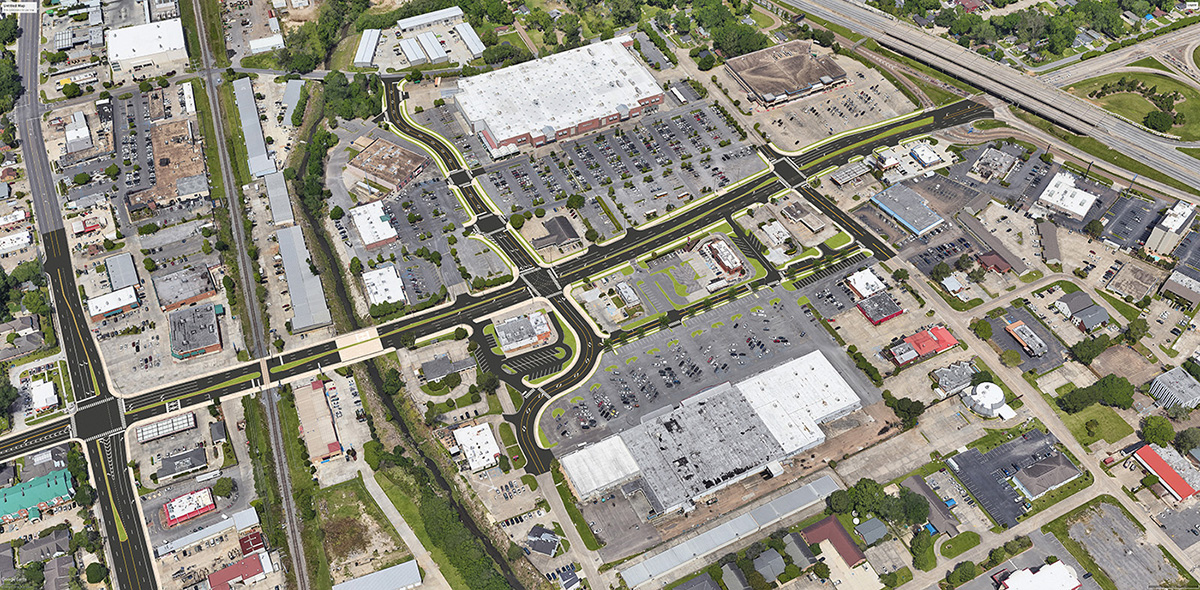 Project Update: Mall of Louisiana Blvd
New Mall of Louisiana Blvd Reaches Key Milestone as New Bridges Over Dawson Creek Near Completion
The new Mall of Louisiana Blvd construction is underway. Construction commenced in December 2020 and a groundbreaking was held on January 27, 2021.
The project scope consists of building a new four-lane roadway from Perkins Road to the Mall of Louisiana Ring Road, approximately 1.4 miles in length. It will include tie-ins to the Wimbledon Subdivision at Rod Lavar and Backcourt Drive and a privacy wall will be installed adjacent to the subdivision. Once completed, the new roadway will include accommodations for pedestrians and cyclists that connect to the BREC Trail at Dawson Creek. You can read more about the project here.
Complete Streets Citizens' Advisory Committee Receives Update on New Projects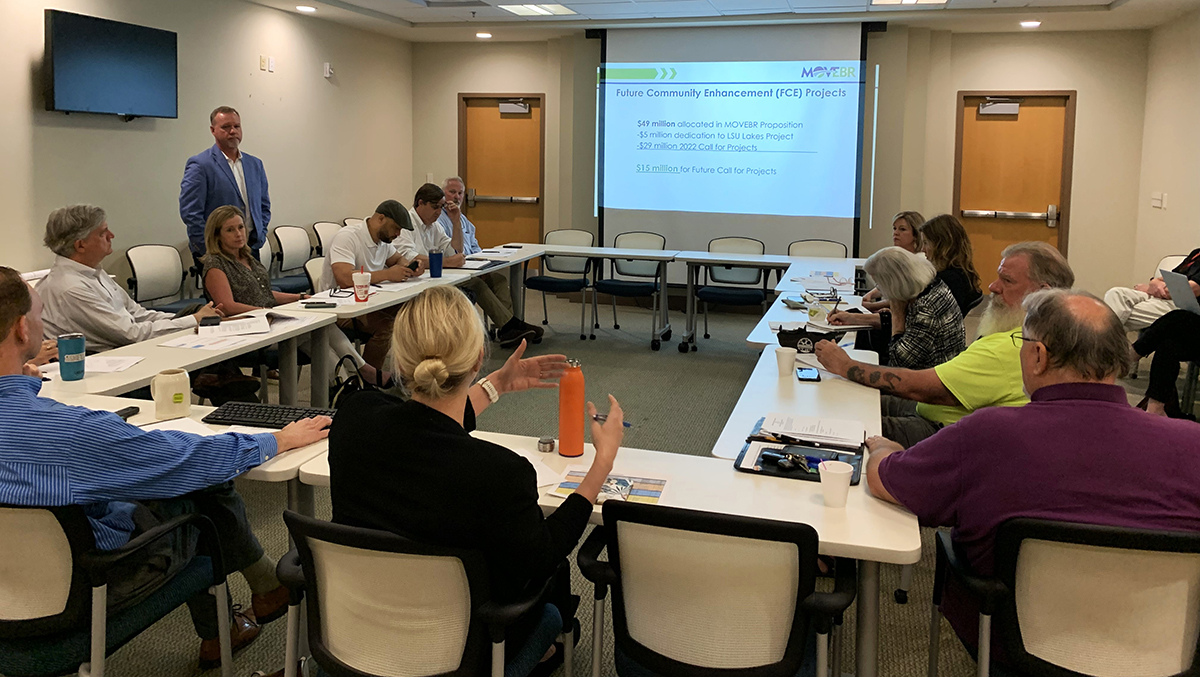 MOVEBR Deputy Program Manager, Jason Crain, presented the new community enhancement projects approved by the Metro Council to the Complete Streets Citizens' Advisory Committee. Many of the new projects approved in January will improve access for users of all ages, abilities and modes of transportation. The MOVEBR proposition passed by voters set aside $49 million for future enhancement projects and the first call for projects resulted in the approval of approximately $29 million. You can read more about the new projects here.
Florida Street ADA Compliance Project Complete
The Florida Street ADA Compliance Project is complete, improving access along the route of the future Bus Rapid Transit (BRT) service. The MOVEBR program management team and project contractor Triumph Construction worked to build the improvements in sequences around Mardi Gras parades, a marathon, school traffic, a legislative session and special events to keep downtown moving during construction. You can read more about the completion of the Florida Street ADA Compliance Project here.
MOVEBR Program Hosts Marketing Workshop for Small Businesses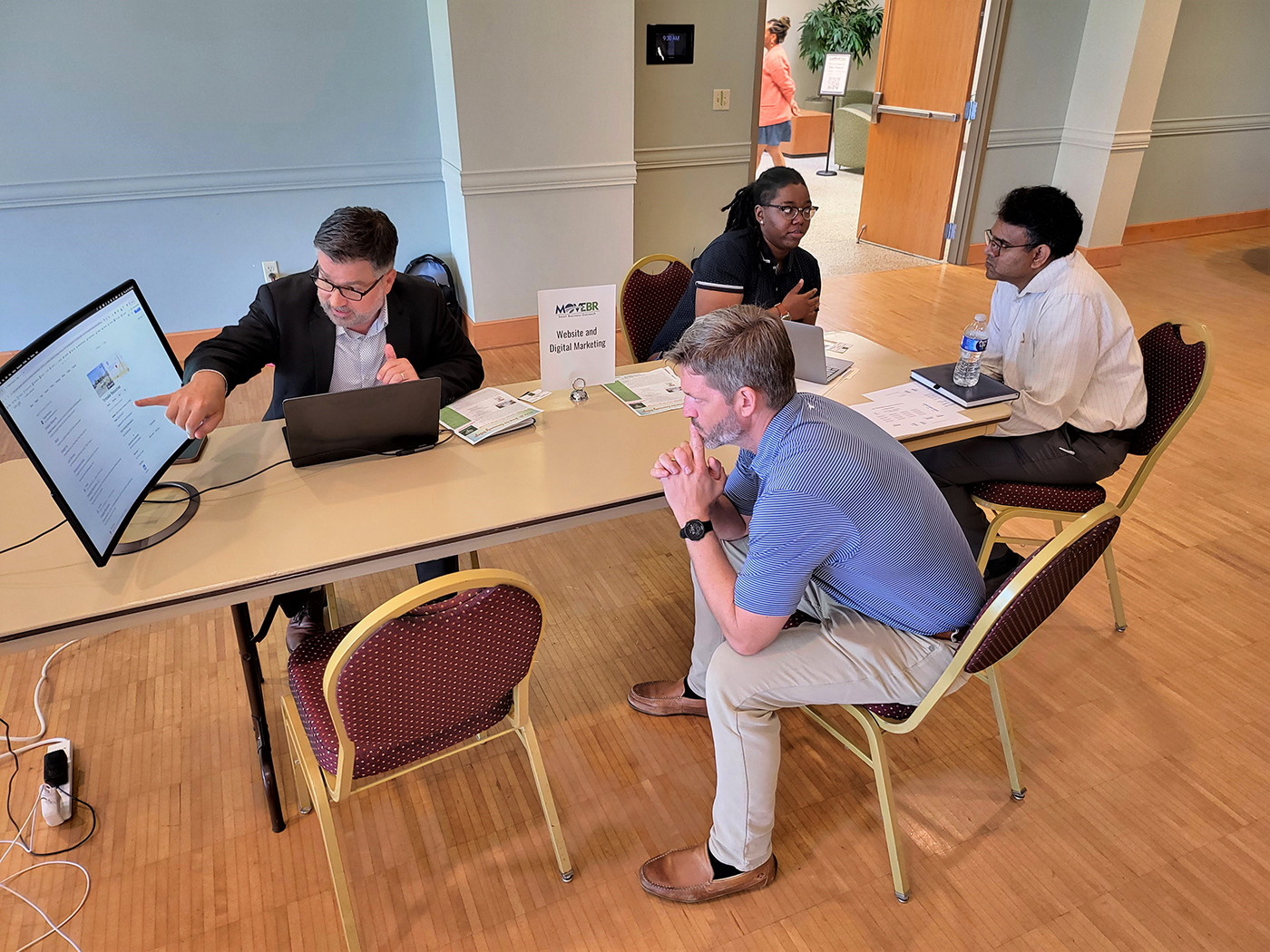 Small businesses looking to work with the MOVEBR program attended a workshop conducted by the program's communications and public outreach team last month. Attendees learned tips on technology for small businesses, website and digital marketing, branding and graphic design, networking and working with larger prime consulting firms. Following a panel discussion by the MOVEBR team, the small business owners received one-on-one feedback on their marketing materials and had the opportunity to ask questions. You can read more about MOVEBR's Small Business Marketing Workshop here.
Signal Improvements Will Help Manage Traffic During Interstate Construction
A significant amount of work on the modernization of Baton Rouge's 470 traffic signals has been completed, which will help keep traffic flowing on surface streets as the state ramps up construction on the I-10 widening project. MOVEBR projects to install detection devices, traffic monitoring cameras, traffic signal controllers, emergency power supplies and emergency vehicle preemption systems are now 100% complete. You can read more about the traffic signal improvements here.
Connect with Us
Stay informed about the MOVEBR Program by visiting movebr.brla.gov or following @movebrla on Facebook, Twitter and Instagram. Let us know if you have a question or need assistance on a MOVEBR project. Be sure to sign up to receive updates so you can follow progress on projects that affect your travel or learn how your business can participate in the MOVEBR Program. Connect with MOVEBR and help us build East Baton Rouge Parish for the future!