Project Spotlight: Old Hammond Highway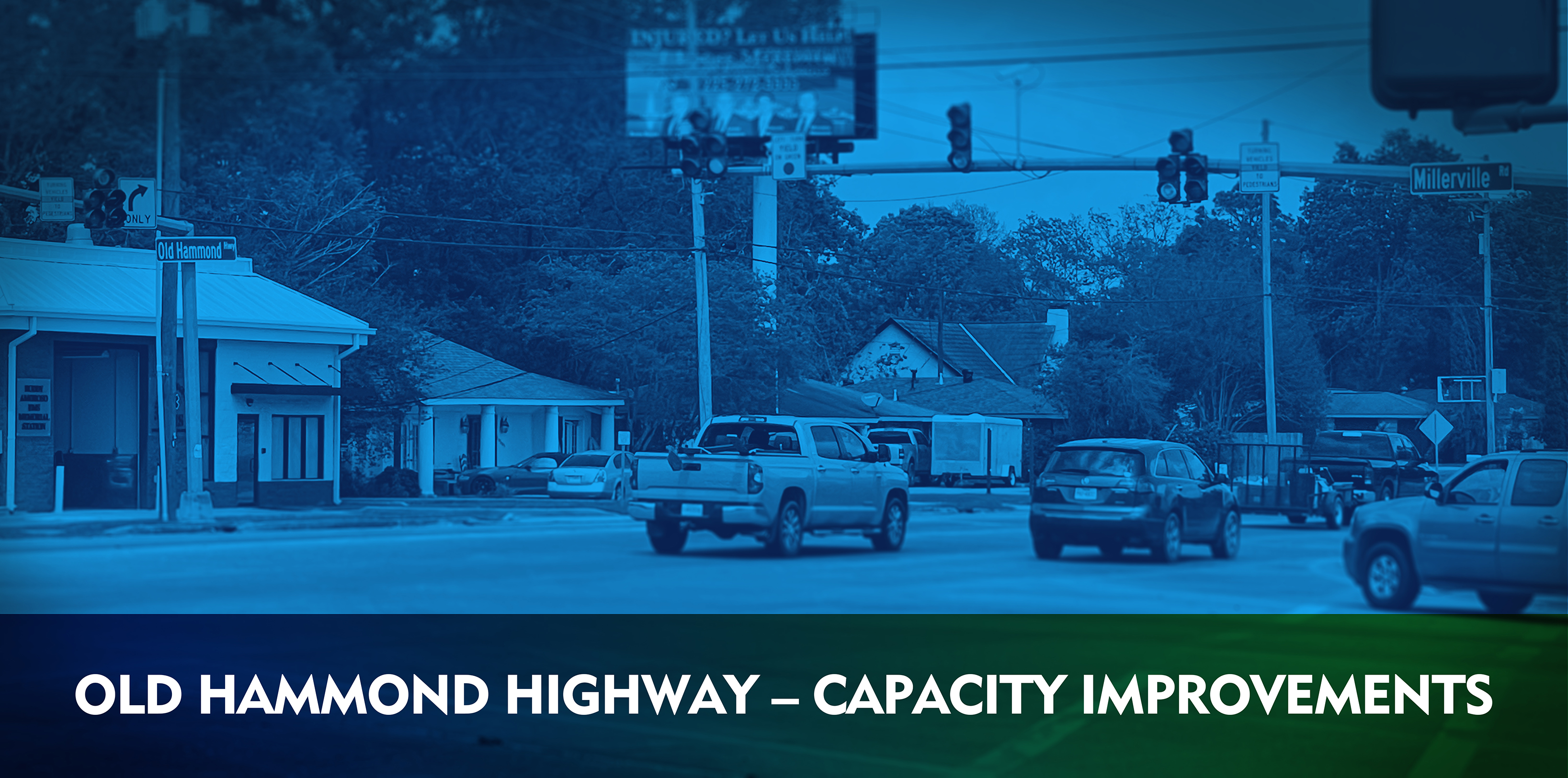 Old Hammond Highway, also known as Louisiana Highway 426, was the original traffic route between Baton Rouge and Denham Springs in the early 20th century. The roadway was known as Benton's Ferry Road and it traveled from what is now known as Jefferson Highway (formerly called Clay Cut Road) to Benton's Ferry on the Amite River near the present US 190 crossing. The ferry was later replaced by a bridge.
Currently, Old Hammond Highway is a four-lane road from Jefferson Highway to Boulevard de Province where it turns into two-lane roadway. Under the MOVEBR Program, the proposed improvements are divided into three segments. The total proposition cost for the project is $60,900,000. The goal of this project is to increase throughput capacity and connectivity for motorists and pedestrians.
The first segment includes adding a roundabout at the intersection at Flannery and Old Hammond Highway, as well as widening Old Hammond Highway to four lanes from Boulevard de Province to Millerville Road. This section also includes replacement of the existing bridge on Flannery Road near the Old Hammond intersection. It will include a median and pedestrian facilities. The project is currently under design which will be followed by right-of-way acquisitions, utility relocations and roadway construction. The proposition cost estimate is $30,900,000. The design consultant is Forte and Tablada. There are several other local and small businesses working on the project including Rampart Resources, Matrix New World, Terracon, Urban Systems, Lacy Baaheth, ROW Acquisitions, MAG Enterprises, Inc., Architects Plus, and Pat Roy.
Segment two will consist of widening the roadway to four lanes from Millerville Road to O'Neal Lane. It will also include a median and sidewalks. Currently, right-of-way negotiations are underway which will be followed by utility relocations. The design consultant is TRC Companies, Inc. with a proposition budget of $18,900,000. There are several local and small businesses working on this project: Guy Land Title Services, LLC; Forte & Tablada; Matrix New World Engineering; Sustainable Design Solutions; Britlan Appraisals; Lowery Enterprises of the South, Inc.; James, Inc.; and Robinson Appraisal Services, LLC.
The third segment of the project stretches from O'Neal Lane to Florida Boulevard. It is currently a two-lane roadway with open ditches on both sides. The improvements will include sidewalks on each side. This segment is currently in the planning phase.
Each of segment has its own project page, where you can view project details. Click below for further details.