MOVEBR Traffic Signal Improvements
MOVEBR is the largest and most significant transportation infrastructure investment in the history of our parish. An important part of MOVEBR is a traffic management system that can help us solve the problems of today…and get us ready for the future.
In this Digital Age, the majority of cities in the U.S. still do not have fully connected traffic signals. Now Baton Rouge is leading the way.
Improvements to traffic signals are designed to improve travel time reliability and provide consistent commute times for personal and business travelers.
Goals for East Baton Rouge Parish
A connected city with centrally managed mobility
Real-time control of traffic signals
Ability to adjust signal timing during:

Incidents (wrecks, signal service, wide-loads, etc.)
Special events (football, concerts, etc.)
Emergency evacuations
Unusual traffic congestion
Interstate construction projects

Faster emergency response times
Consistent commute times
Aging Equipment
In many cases, traffic signals in our parish have outlasted their expected lifespan and lack the technology needed to provide efficient traffic management. A quick look at East Baton Rouge's aging traffic equipment:
| | |
| --- | --- |
| Traffic Signal Controllers | 10+ years |
| Video Detectors | 15+ years |
| Loop Detectors | 20+ years |
| Conflict Monitors | 12+ years |
| School Flashers | 40+ years |
| Lack of Fiber to Many Traffic Signals | |
When complete, Baton Rouge will be a leading city for traffic management technology. You can sign up to follow our progress.
Schedule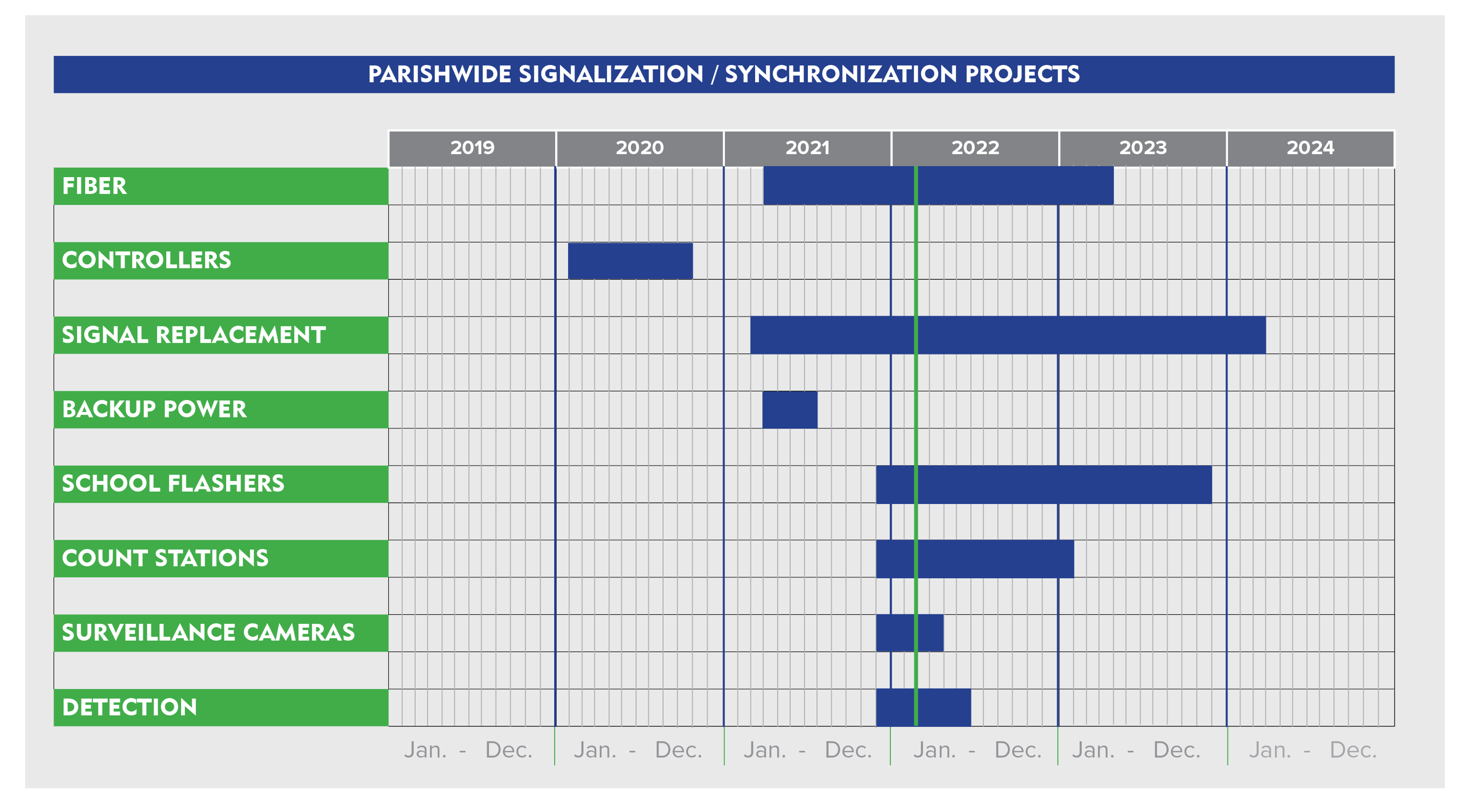 Click on image to enlarge
---
Fiber Optic Cable Installation Progress
(current as of 03/03/22)
Fiber optic cable allows connectivity between traffic signals and improves corridor operations. Fiber provides communications for all traffic signals to a central system. The MOVEBR program is installing 176 miles of fiber optic cable throughout the parish – over 1000 feet a day!
Installation has been completed on these corridors:
| Roadway | Limits (From) | Limits (To) |
| --- | --- | --- |
| Airline Hwy | Plank Rd | Industrial |
| Florida Blvd | Foster Dr | 22nd St |
| 22nd St | Government St | Fuqua |
| North Blvd | 19th St | Eugene |
| 19th St | North Blvd | North St |
| Fuqua | 22nd St | 19th St |
| Nicholson | North Stadium | Burbank |
| Burbank | Nicholson | Ben Hur |
| Jennifer Jean | Burbank | Nicholson |
| Lee Dr | Burbank | Boone |
| Dalrymple | E State St | E Lakeshore Dr |
| Harding | Plank Rd | Scenic Hwy |
| Scenic Hwy | Harding | LA 19 |
| LA 19 | Scenic Hwy | Blount |
| Blount | LA 19 | Vets Memorial |
| Silverleaf | Mickens | Greenwell |
| McClelland | Airline | Evangeline |
| Greenwell St | Airline Hwy | Silverleaf |
| Prescott | Airline Hwy | Foster Dr |
| Winbourne | Plank Rd | Airline |
Corridors Coming Online Spring 2022
Dalrymple Drive (E State St to E Lakeshore Dr) Online!
Airline Highway (Choctaw Dr to Plank Rd)
Florida Boulevard (Foster to 22nd)
Nicholson Drive (North Stadium to Burbank)
Burbank Drive (Nicholson to Ben Hur)
Harding Boulevard (Plank Rd to Scenic Hwy)
22nd Street (Government St to Fuqua)
19th Street (North Boulevard to North Street)
---
Detection Devices and Cameras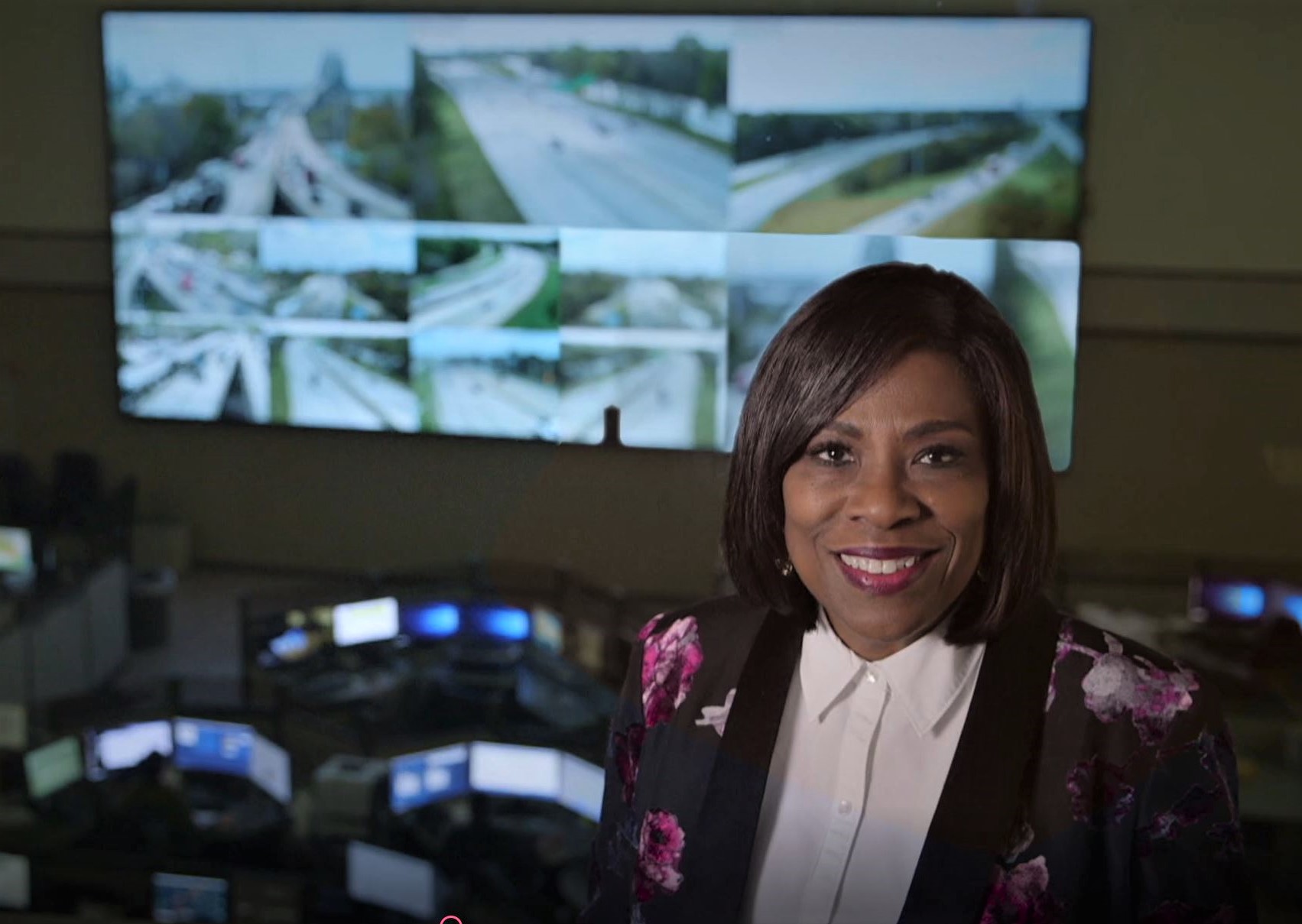 Technology enables traffic signals to detect vehicles and adjust signal timing based on actual traffic volumes by collecting reliable, real-time traffic data. Strategically placed cameras monitor traffic and incidents allowing traffic engineers to make real-time responses from the Advanced Traffic Management Center.
What is a BlueTOAD?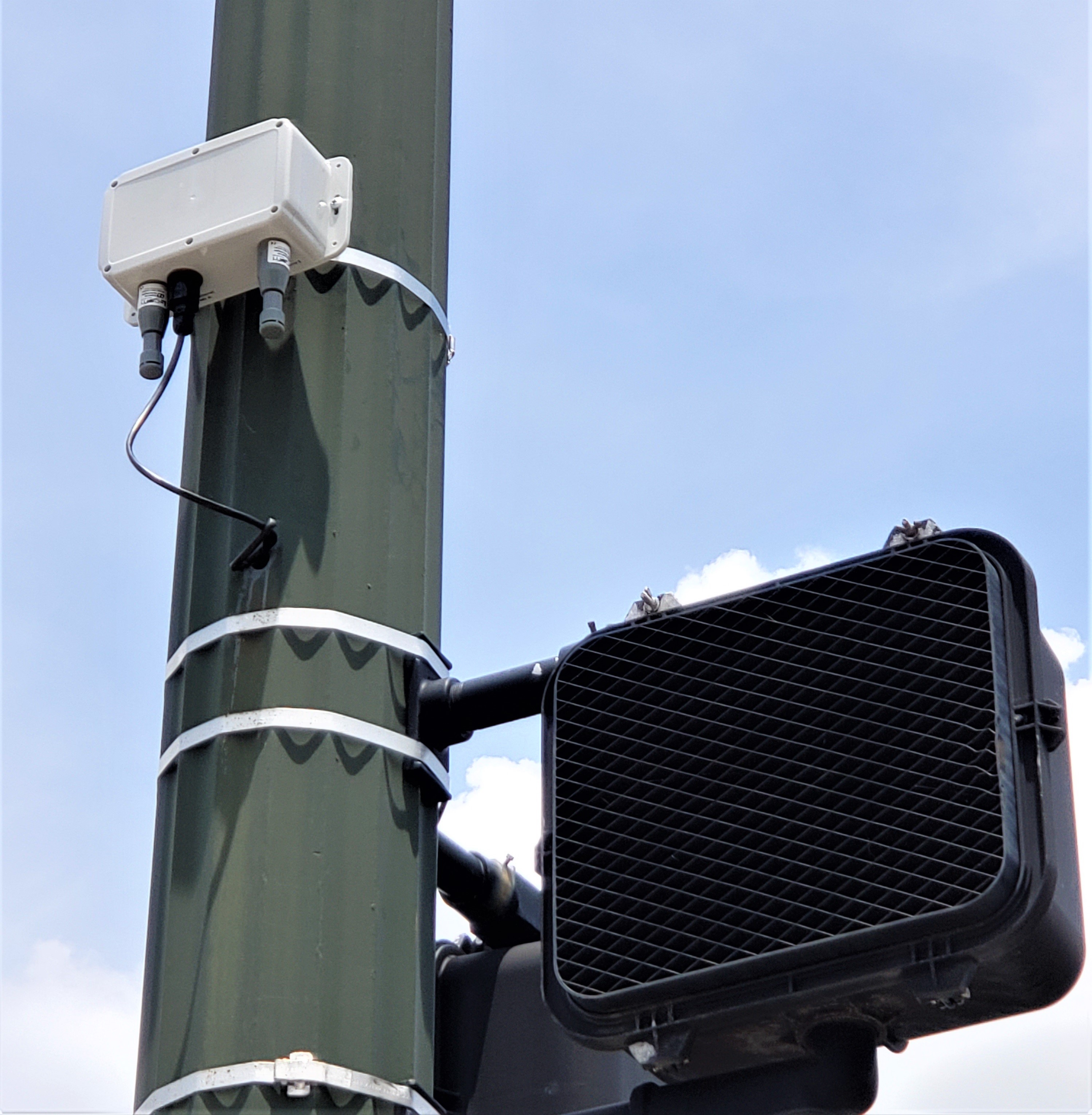 These devices detect anonymous Bluetooth signals from mobile devices and vehicles to determine travel times between points. This data helps traffic engineers improve signal timing…and will be available via an app to help the public avoid congested areas.
---
MOVEBR Signal Upgrades Include
Replacing outdated equipment
Pedestrian crossings where needed
Emergency vehicle preemption
Back-up power supply at critical intersections
Flashing yellow left-turn arrows where appropriate
---
Emergency Vehicle Preemption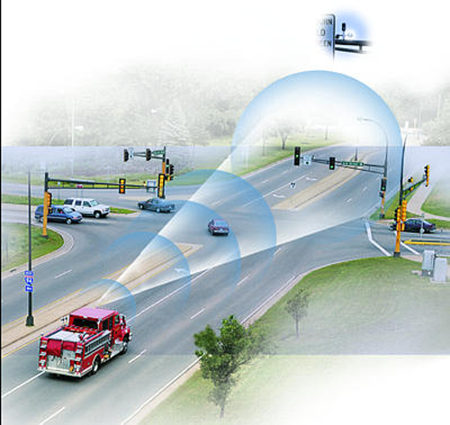 Every second counts in a fire or medical emergency. Along with the MOVEBR signal upgrades, the City-Parish has equipped 440 traffic signals with new technology that allows emergency responders to pre-empt traffic lights…turning traffic signals green to reach destinations faster.
This will reduce response time for emergency vehicles, and improve safety for everyone by moving traffic along ahead of emergency vehicles.
---
Power Outages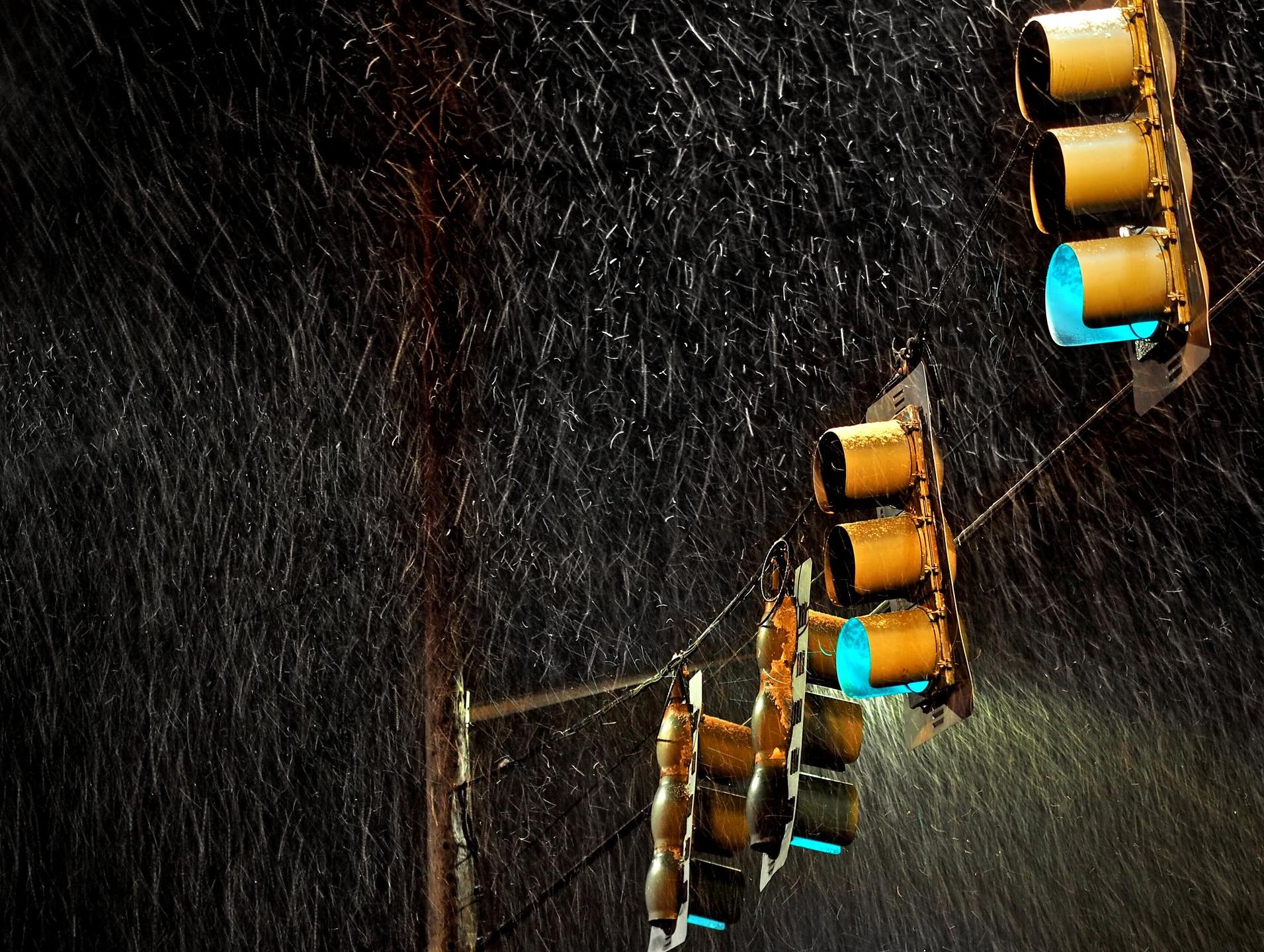 Power outages contribute to traffic congestion and make unsafe conditions for drivers and pedestrians. They also cause delays for emergency vehicles.
The MOVEBR program has installed Uninterruptible Power Supplies (UPS) at 117 locations on key corridors. These provide four hours of battery back-up power to keep traffic signals working while power is restored.
---
Flashing Yellow Arrows Help Keep Traffic Moving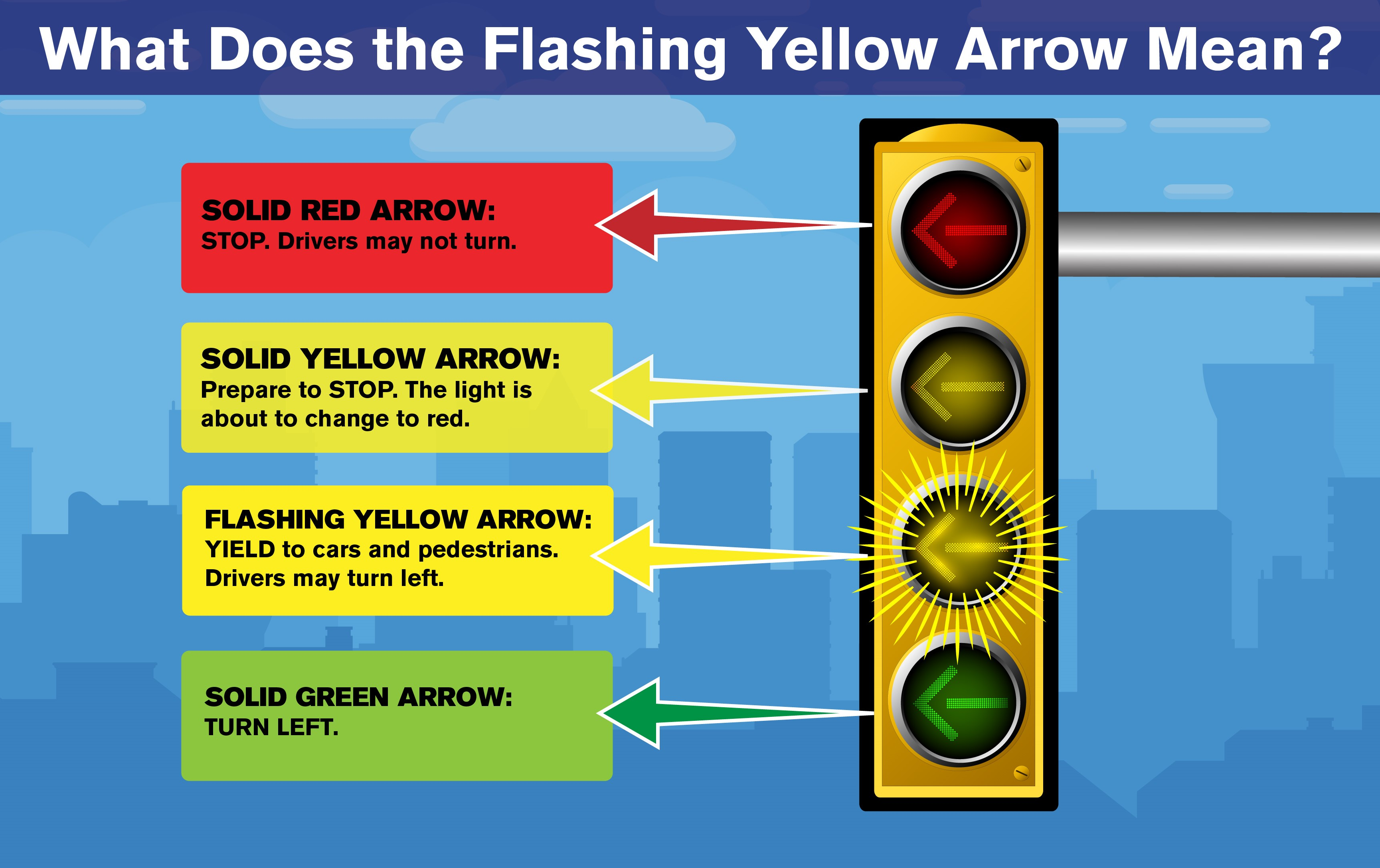 New flashing yellow arrow signals are being installed in East Baton Rouge Parish and Mayor-President Sharon Weston Broome is taking steps to educate drivers about these upgrades to the transportation system.
The newtraffic signals feature a flashing yellow arrow in addition to red, yellow, and green arrows. The flashing yellow arrow allows motorists in a left-turn lane to turn after yielding to oncoming traffic and pedestrians.
The flashing yellow arrow signals are being installed on some state roadways and will be included in MOVEBR projects in the near future. A Federal Highway Administration (FHWA) study found the traffic signals reduce left turn crashes by up to 35%. They also help move more traffic through the intersection, easing traffic congestion and reducing vehicle idling – and that helps ease pollution.
To help prepare drivers for the new traffic signals, Mayor Broome and the MOVEBR program are providing public service announcements to educate drivers of the changes. More information on the new traffic signals and other improvements can be found on the Flashing Yellow Turn Lights page.
---
We're Making Streets Safer for Pedestrians
Among the improved crosswalks for pedestrians, the MOVEBR signal improvements include High Intensity Activated CrossWalKs (HAWKs) which provide safe crossing where traditional intersections are not available or mid-block crossings on busy streets. The HAWKs are only activated when a pedestrian or bicyclist pushes a button to cross the street.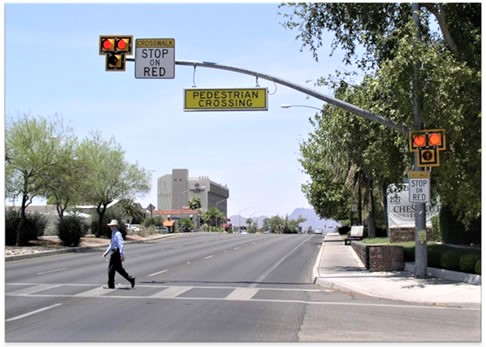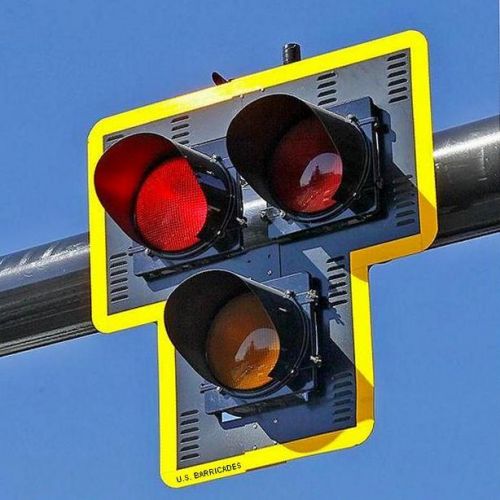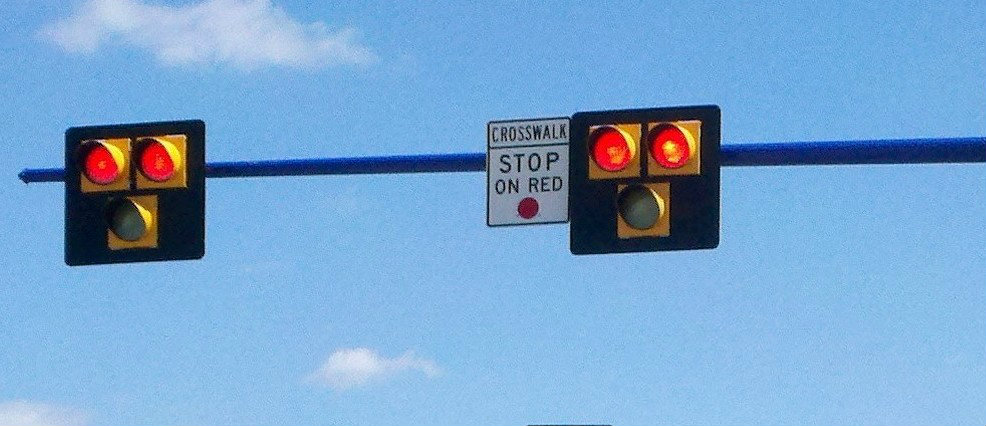 ---
Additional Signalization/Synchronization Improvements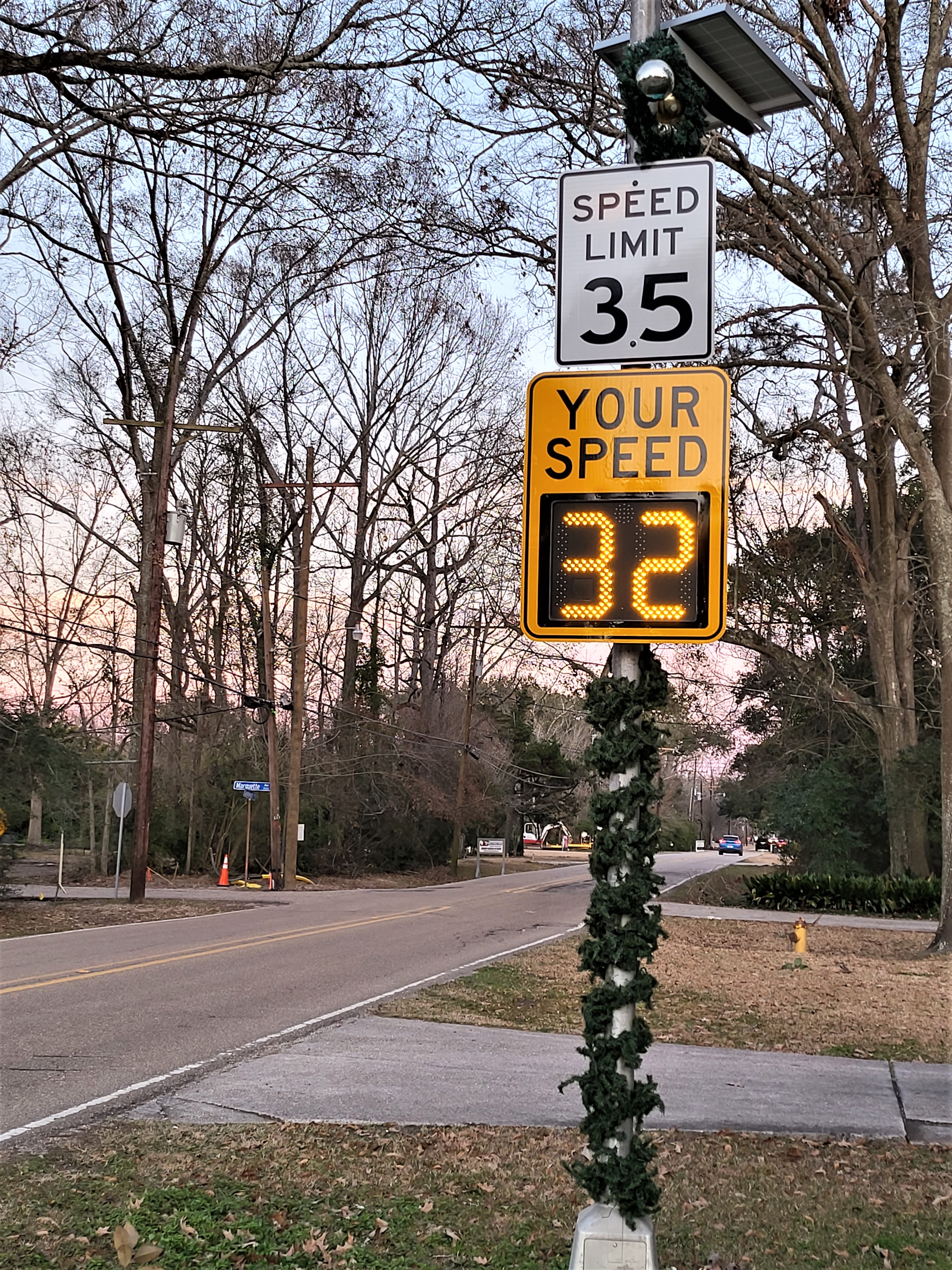 Signal improvements also include speed signs, permanent count stations for data collection and 400 new school flashers which are coming soon.
---
We're Building for the future.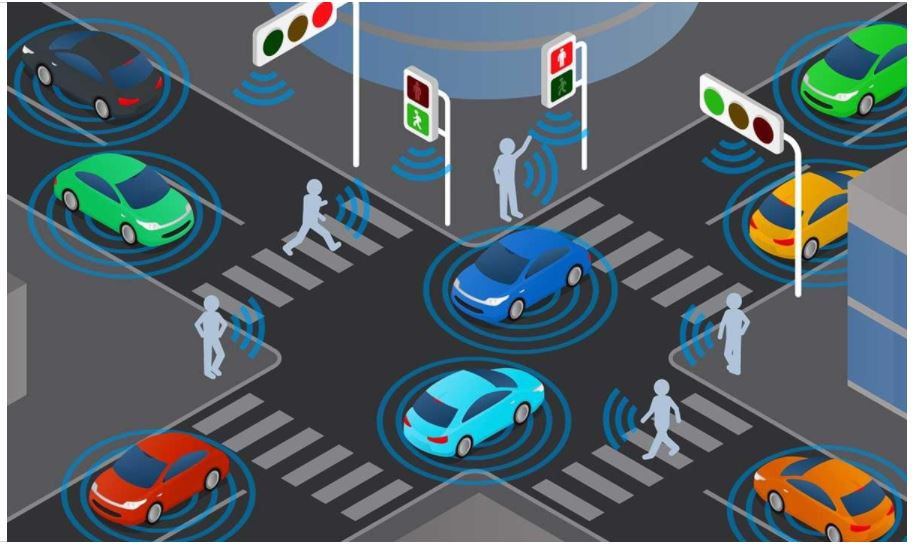 The new signal equipment is designed to adjust to changing technology and traffic patterns. It will be compatible with autonomous vehicles and adaptive signal timing.
MOVEBR is getting you where you want to go…safer and quicker.