Property Owners Notified of Field Services Work on MOVEBR Projects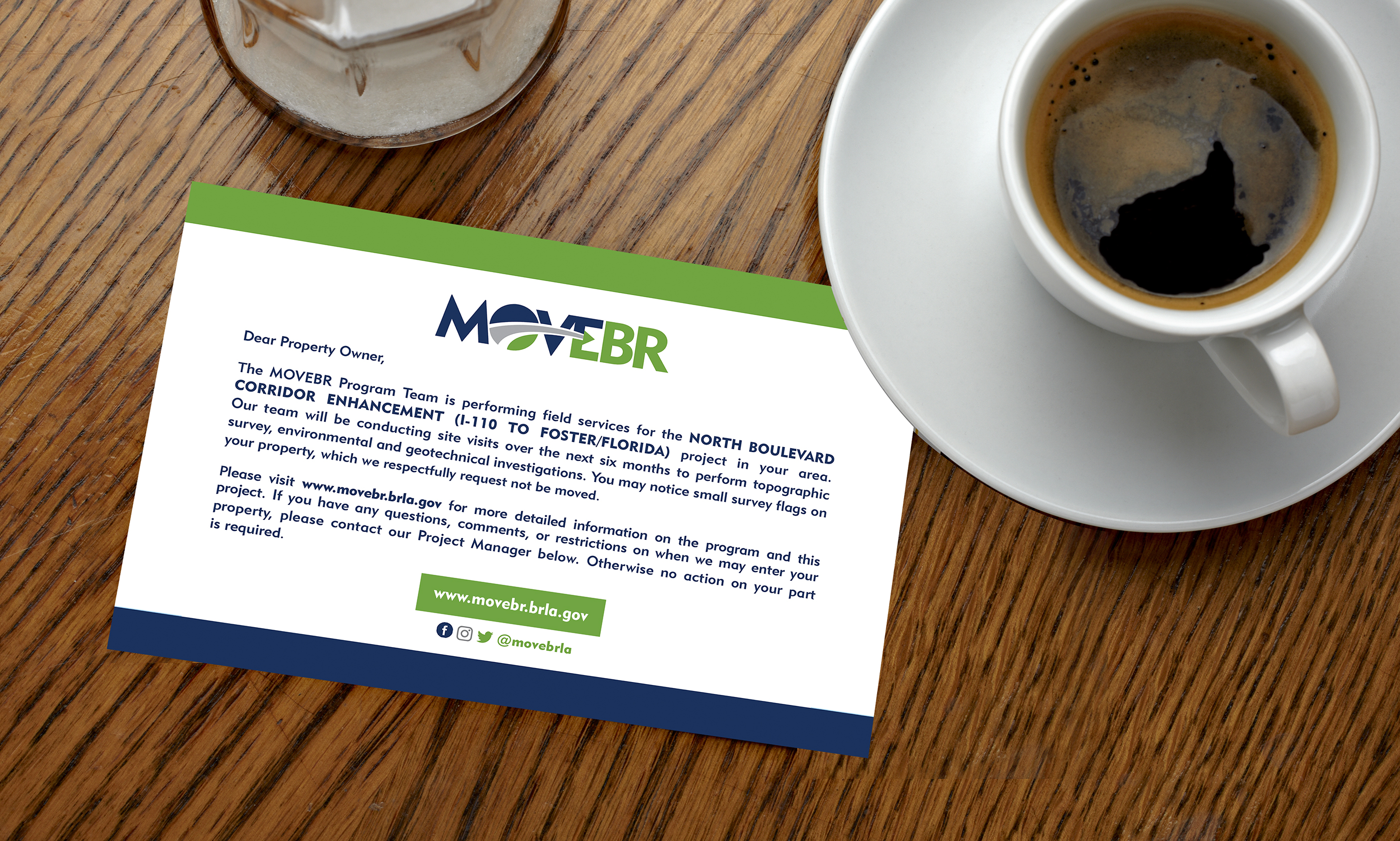 When MOVEBR project contractors receive a notice to proceed from the City-Parish, the MOVEBR program notifies property owners in areas where field services are being performed about ongoing site visits for environmental and geotechnical investigations.
Property owners may notice small survey flags on their property and are asked to not move or disturb them, but to contact the project manager if they have questions. They are also asked to notify the project manager if they have any restrictions on when the team can access the property. Read a list of projects here that have had field services performed prior to construction beginning.
Post cards are mailed to property owners, and in some cases distributed personally, to update owners about the expected activities. These post cards also include direct contact information for the project manager on each specific project.
Below are the MOVEBR projects which have reached this notification stage to date:
Perkins Road (Pecue - Siegen)
Sherwood Forest Extn. (Greenwell Spr. - Joor)
Hennessy-Perkins Connector
Jefferson at Corporate
Jefferson at Bluebonnet
Harding at I-110
Hooper Road (Blackwater - Sullivan)
Ben Hur Realignment/Nicholson Intersection
Bluebonnet (Perkins to Picardy)
South Choctaw (Flannery - Central Thwy)
Highland @ Siegen
Jones Creek Road (Tiger Bend to Airline Hwy)
Midway (Dijon-Picardy)
Nicholson Drive (Brightside - Gourrier)
Old Hammond Segment #1 (Blvd De Province - Millerville)
Old Hammond Segment #2 (Millerville - O'Neal)
College Drive Corridor Enhancement
Florida Boulevard Corridor Enhancement, Segment 2
Groom Road Corridor Improvements
Scenic Highway Corridor Improvements
72nd Avenue Sidewalks Project, Phase 1
North Boulevard Corridor Enhancement (I-110 to Foster/Florida)
Sherwood Forest Boulevard Multi-Use Path (I-12 to Old Hammond Highway)
Sherwood Forest Boulevard Sidewalks (Coursey Blvd. to 1-12 west side)