Mayor Broome and MOVEBR Break Ground on Mall of Louisiana Boulevard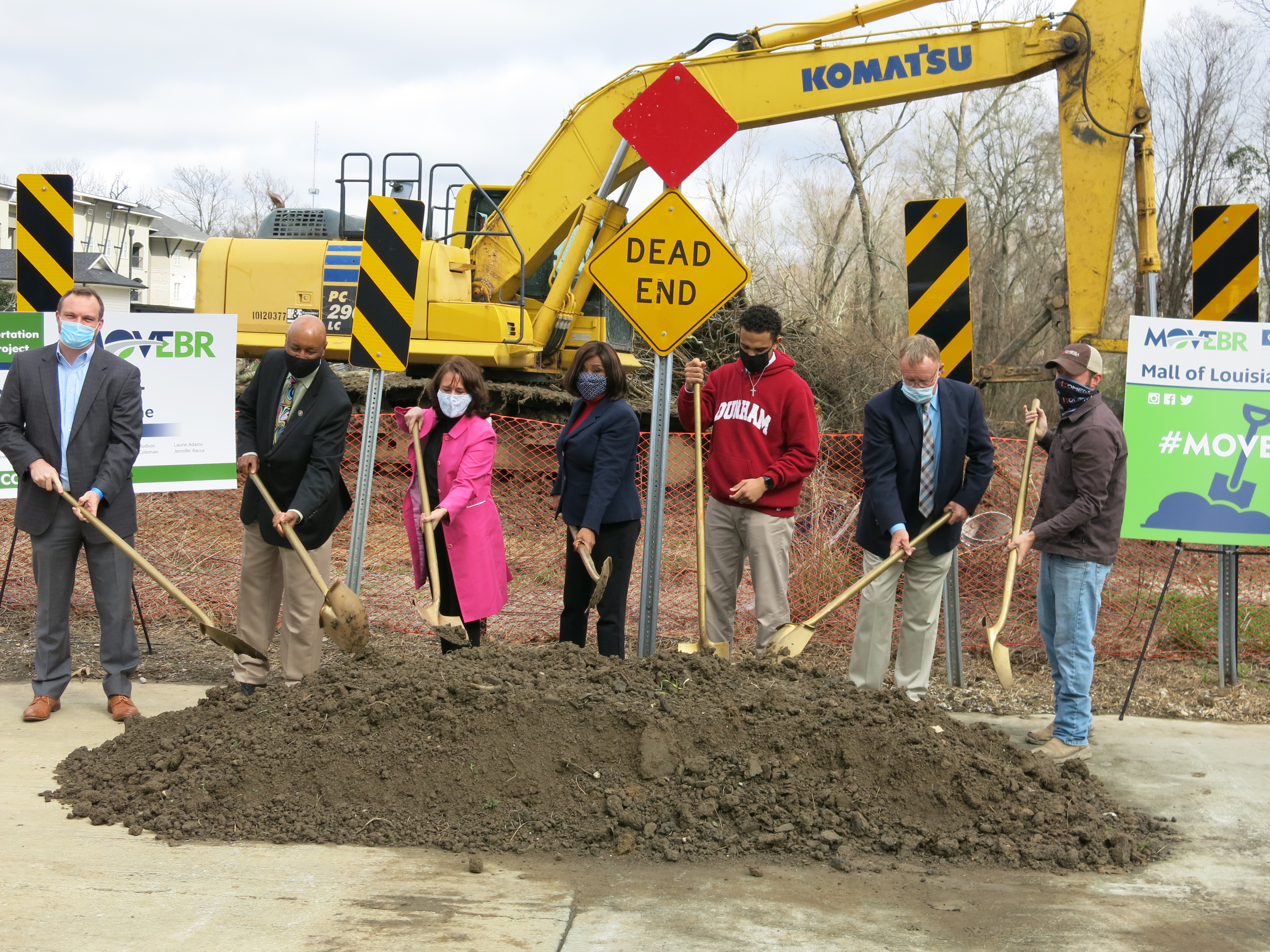 Mayor-President Sharon Weston Broome and community stakeholders broke ground Wednesday on the second MOVEBR project at Mall of Louisiana Boulevard. This project is one of the 21 projects that will move forward in 2021. The first groundbreaking was last fall with the 72nd Avenue Sidewalks in Scotlandville, a community enhancement project adding sidewalks to the corridor.
The Mall of Louisiana Boulevard project is a new four-lane roadway, approximately 1.4 miles in length from Perkins Road to the Mall of Louisiana Ring Road. It was designed by Evans-Graves Engineering, a local firm in Baton Rouge.
This new roadway will consist of two new bridges over Dawson Creek, an underpass at the railroad track with a new pump station for enhanced drainage, and a 10-foot shared path for walking and cycling that connects to the BREC Trail at Dawson's Creek. This shared path seeks to utilize the City-Parish's Complete Streets policy by accommodating people walking and biking.
It will provide access to the Wimbledon Subdivision via three connection points: Back Court Drive, Maureen Connolly and Rod Laver Avenue. Additionally, a privacy wall will be installed along the roadway adjacent to the Wimbledon Subdivision.
There will be enhancements on Perkins Road with the relocation of the traffic signal at Perkins Road and Grand Avenue to the intersection of Perkins Road and Mall of Louisiana Boulevard.
This project fulfills one of the goals of the Small Business Outreach Initiative, which is to engage small minority, veteran, and woman-owned businesses.
When completed in 2023, the new roadway will provide an alternate access route to the Mall of Louisiana from Perkins Road, and to Perkins Road from the Mall of Louisiana with outlets for the Wimbledon Subdivision.
The MOVEBR program represents the single largest infrastructure initiative in the history of East Baton Rouge Parish. In time, the program will deliver less-congested corridors, safer streets, and enhanced quality of life for all residents. A list of all the MOVEBR projects can be found here.
View photos & watch a recording of the groundbreaking below:
---