MOVEBR is building sidewalks, too
Complete Streets: Streets for Everyone
Complete Streets are designed and operated to enable safe access for all users, including pedestrians, bicyclists, motorists and transit riders of all ages and abilities. The MOVEBR Program has developed design guidelines that aim to institutionalize the Complete Streets policy. The intent is to improve mobility for all modes of transportation to the extent practical and feasible to do so.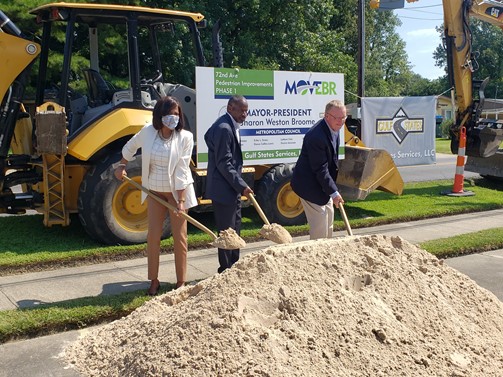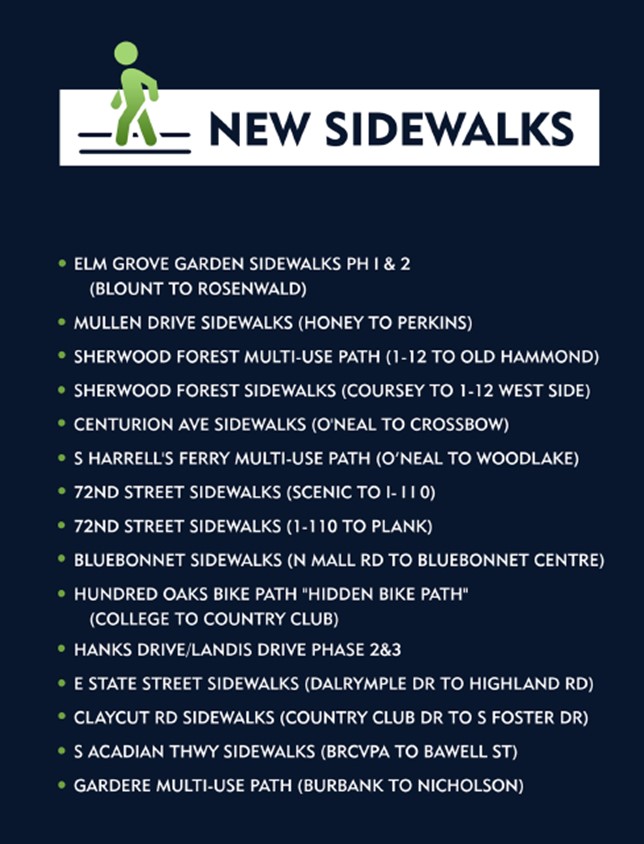 ---
New Sidewalks Connect 72nd Avenue Residents with Schools and Businesses
On August 4, 2020, Mayor-President Sharon Weston Broome broke ground on the first MOVEBR construction project, to build new sidewalks and other improvements on 72nd Avenue in North Baton Rouge. The 72nd Avenue project is one of the 15 sidewalk improvement projects that MOVEBR will undertake.
Phase 1 of the 72nd Avenue Sidewalks Project will build new sidewalks on both sides of the street from Scenic Highway to I-110, improve bus stops and provide ADA compliant facilities for people living with disabilities. Phase 1 is scheduled to be completed by January 29, 2021.
"For the first time, residents will not only have a safer, accessible way to travel, they can also enjoy walking to get some exercise or visit a neighbor," said the Mayor-President Sharon Weston Broome. "Children can get to school safer. These improvements were needed for the neighborhood and to connect this area with commercial businesses on Scenic Highway and Plank Road" she continued.
The MOVEBR program includes projects that benefit every part of East Baton Rouge Parish and range from large projects that address traffic congestion to smaller projects that improve neighborhoods.
This project and every MOVEBR project are designed following the design guidelines – a document that was developed to guide the design of transportation projects associated with the MOVEBR Program, including Complete Streets, Green Infrastructure and ADA Compliance.
According to the Federal Highway Administration (FHWA), sidewalks provide many benefits to communities including safety, mobility and healthier communities. "Research indicates that people will walk for recreational purposes if a facility is provided. Recreational walking is one of the easiest ways for people to get the recommended allotment of physical exercise each day. Moderate exercise, such as walking, contributes to both physical and mental well-being.
The new sidewalks being built by the MOVEBR program will promote walking in the community. The Mayor's Healthy City Initiative, Healthy BR, notes, "Whether it's walking alone, with friends or in groups, there is no better way to take in the natural beauty of our city and get healthy at the same time."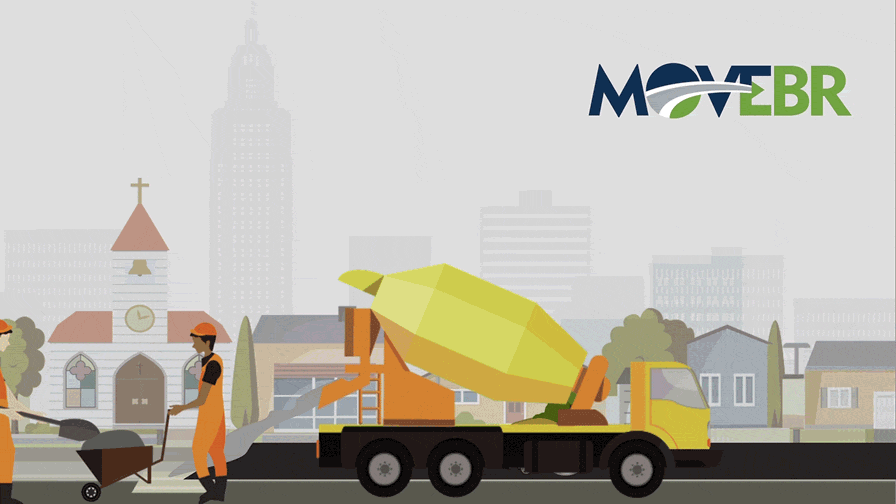 According to studies from AARP, people who live in neighborhoods with sidewalks are almost 50 percent more likely to be active for at least 30 minutes a day. Furthermore, research has shown that walking 30 minutes a day can decrease your chances of diabetes, heart disease, obesity, depression, and certain cancers.